The Smitsen DS-9 series is by far the most diverse series of all high speed sewing heads available on the market. With 2x oil baths in the machine. The most popular is the DS-9C with a speed of up to 2700 RPM and an integrated knife to cut through thread or Crepe Tape. For a double needle, double stitch the DS-9CW closes a diversity of bags. If you need to feed bags by hand, The Smitsen DS-9A with foot pedal is an ideal solution. If you are working in the potato industry or if you are working with net bags, the Smitsen DS-9P is the excellent choice.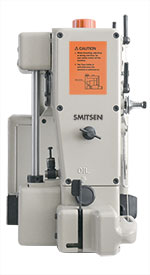 2x Oil Bath
All the Sewing heads from the Smitsen DS-9 series have an upper and a lower oil bath. It does not only make the machine run as fast as it can, it also reduces maintenance and wear of parts to a minimum. If you are working with corrosive materials or products in the food industry, the oil baths protects the machine for hazardous materials and keeping contamination of food to an absolut minimum.
Examples of usage: packing flower, carbon black, charcoal, sugar, fertelizers, potatoes, unions, seeds,  and simular products.
Integrated knife
The Smitsen DS-9C and DS-9CW machine models come with an air operated knife that is already preinstalled with the machine. An SMC Air valve and air filter are included with every DS-9C and DS-9CW machine. All you have to do is provide it some air.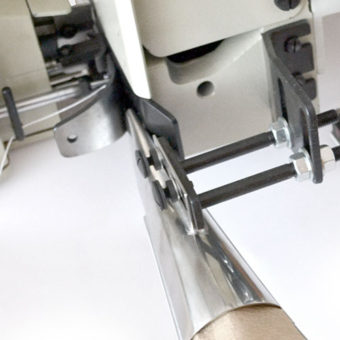 The Smitsen DS-9C is an excellent Crepe tape machine
The DS-9C is excellent for applying crepe tape. Every DS-9C comes standard with the knife that cuts through the Crepe tape and the thread at the same time. The machine can extended with a Crepe tape binder or the CM4900-3 Crepe Tape infeeder.